Bush Said to Be Ready to Open Oil Reserve Spigot
New York Times - September 23, 2004
Regulators Order Fannie Mae to Fix Accounting Problems Now
New York Times - September 23, 2004
Heavy cost of Hurricane Frances
BBC News - September 23, 2004
Even Near Home, a New Front Is Opening in the Terror Battle
New York Times - September 23, 2004
Ex-Chief of Computer Associates Kumar Pleads Not Guilty
New York Times - September 23, 2004
Trump Hotels and Equity Firm Break Off Investment Talks
New York Times - September 23, 2004
Unemployment and Oil News Keep Stocks Mixed
New York Times - September 23, 2004
Caribbean coral under threat
BBC News - September 23, 2004
Willis back with Hawks
BBC News - September 23, 2004


CNN
Frey's cross-examination delayed
Scott Peterson's former mistress, Amber Frey, will not be cross-examined Wednesday in Peterson's double murder trial as scheduled, due to a new development in the case.
CNN - August 18, 2004

CNN
Breaking ranks
Reversing his earlier stance and breaking with his party, a senior retiring Republican lawmaker said Wednesday the military strike against Iraq was "a mistake," and he blasted a "massive failure" of intelligence before the war.
CNN - August 18, 2004
Paul Hamm Wins All-Around Event
After falling on the landing of his vault, Paul Hamm put on two of the most spectacular routines of his career to win Olympic gold, the first ever by a U.S. man.
New York Times - August 18, 2004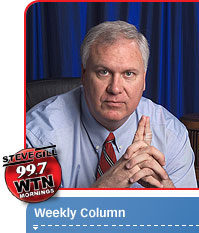 IS TENNESSEE "BUSINESS FRIENDLY?"
August 16, 2004 - August 22, 2004
Competition among states for business growth and relocation has never been more intense. Much of the attention on economic development at the state and local level focuses on companies that relocate - and the jobs they bring with them. But the real engine of economic growth is the expansion of existing companies, big and small, that already do busi...

Previous Articles:

16 WORDS
August 9, 2004 - August 15, 2004

FACTS AND FIGURES WILL UNDERCUT FUTURE INCOME TAX PUSH
August 2, 2004 - August 8, 2004

A TRUE HERO GIVES HIS ALL FOR HIS COUNTRY
July 19, 2004 - July 25, 2004

READ THE ARCHIVES

Bush Dismisses Idea That Kerry Lied on Vietnam
New York Times - August 27, 2004
Sudan criticised over Janjaweed
BBC News - August 27, 2004
Oprah jury reaches verdict
BBC News - August 19, 2004
Mexican columnist murdered
BBC News - September 2, 2004
After 2 Nights of Sizzle, the Regulars Take the Stage
New York Times - September 1, 2004
Sister welcomes search at quarry
BBC News - August 23, 2004
Warming threat to California wine
BBC News - August 17, 2004
US Airways Chief Steps Up Pressure for Concessions
New York Times - August 19, 2004
Court Rejects Yukos' Plea on Tax Bill
New York Times - August 17, 2004