Internationalist Magazine \ Vol. 2, Issue 1 \ In Short
99 Problems, But Rich Ain't One...
Colonel's Chicken and a Bucket of Blood, Please
Deep Lessons in Self-sacrifice
Least Developed Pay Cost of Free Trade
Dancehall DJs Promote Homophobia
---
Afghans Rock the Desert Vote
The first democratic presidential elections in Afghanistan should turn some heads on October 9, 2004. With 18 candidates in the race and 25,000 polling stations across the country, Afghanis from as far as Pakistan to Iranian refugee camps will turn out to vote. There are only a few hurdles to clear in order to prove democracy that can work in the country.
First, there is the mystery of registered voters— there are more voters registered in the country than there are eligible voters. While this voting enthusiasm in Afghanistan has shamed elections in most established democracies, it raises concerns of voter fraud. Estimates of eligible voters stood around 9.8 million. This number was hastily increased to 10.5 million by authorities when registration numbers climbed to 9.9 million (and continues to rise, now at about 10.5million in the middle of September). In hopes of remedying possible voter fraud and in the absence of identity documentation for most Afghani citizens, voters will be required to give fingerprints at the poles.
Another unorthodox characteristic of these elections is the method of educating mostly illiterate voters. Cartoons and info-graphics tell citizens how to register, and ballots show pictures and symbols to identify the candidates. State-sponsored radio is also getting out the word, but finding enough literate staff for voting centers has been a problem. And how will all the election materials be transported in a country with few roads and weak infrastructure? Jeeps, pick-ups, four-wheel drives, helicopters, airplanes, horses, and donkeys will do the job.
The biggest concern leading up to the election is security, as the U.N. has reported that 12 deaths and 30 injuries have occurred in "election-related violence" in the nine months of voter registration, not to mention many more deaths involving militant rebel groups who hope to disrupt the election. Along with the Taliban, several other rebel factions and insurgents are reportedly forming alliances in hopes of countering what they see as Western influence and threats to their power.
While no one expects the elections to run smoothly, the fact that they are happening at all is a victory for the voices of the Afghani people, particularly women, who comprise 41.3% of the vote and are a traditionally marginalized group. Come October 9th, we will see if democracy is victorious in Afghanistan, a prospect that many Afghani people never thought possible.
—Karen Miller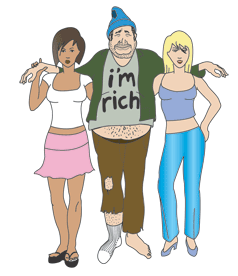 99 Problems, But Rich Ain't One...
Although the United States is now three times richer than at the end of World War II, our citizens don't seem to be much happier. Could more sex be the solution? According the rapidly expanding field of so-called "happiness economists," it could.
The National Bureau of Economic Research recently published a paper entitled "Money, Sex, and Happiness: An Empirical Study," which assigns dollar amounts to the happiness level derived from sexual activity. It is based on the research of David Blanchflower of Dartmouth College and Andrew Oswald of the University of Warwick, who compiled the levels of sexual activity and happiness of 16,000 individuals. Measuring happiness as the "degree to which an individual judges the overall quality of life as favorable," Blanchflower and Oswald assume that people can decide how happy they feel. Using econometrics equations, the professors estimate increasing romps between the sheets from once a month to once a week is equivalent to an annual addition of $50,000 in income for Americans. While not clear whether happiness begets more sex anyway, there does appear to be a clear relationship between the two.
—Rachel Hynes
Colonel's Chicken and a Bucket of Blood, Please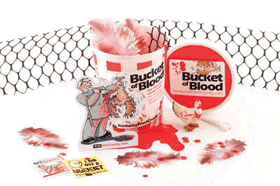 People for the Ethical Treatment of Animals (P.E.T.A.), the largest animal rights organization in the world, may just gross us out before provoking deep thoughts on how to ethically treat animals. In a protest against alleged slaughter abuses by KFC suppliers, a new campaign gimmick called "Bucket of Blood" features a blood-spattered Colonel Sanders brutally slaughtering a chicken. You might not want to let the kids look inside, because instead of fried chicken you will find fake blood, bones, and a bloodied plastic chicken—what P.E.T.A. likes to call "pushing the envelope a little further."
—Karen Miller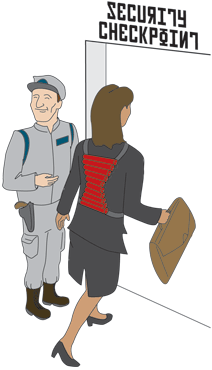 Chechnya's Femmes Fatales
Dressed from head-to-toe in black and wearing a "martyr's belt" filled with explosives, Chechen women terrorists are gaining world-wide attention and creating problems for counterterrorist experts. These women have participated in many of the Chechen militants' campaigns, including the bombings of two Russian airliners and a recent siege at a school in Northern Ossetia.
They are seen as assets as they do not fit the terrorist profile; they are often able to slip by security guards who are hesitant to search them for reasons of modesty. Known as "black widows," many of these women have lost brothers, fathers, and husbands in the war with Russia and claim to have nothing left to lose.
Feelings in Russia towards these women are mixed. Aslambek Aslakhanov, a member of the Russian parliament, has said such attacks are "not characteristic of Chechens," and claims the terrorists are using the women. Parliament members believe these women have been zombirovaniye, an expression meaning "turned into zombies." Stories abound of rape, drugs, and even women being sold into terrorism.
—Rachel Hynes
Deep Lessons in Self-sacrifice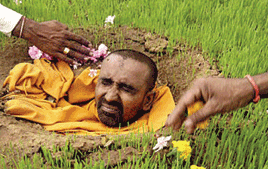 Think you know what sacrifice is? Well you may be able to learn a thing or two from Tapawsiary Bapu, a 37-year-old Indian Hindu holy man who buried himself in the ground from the neck down for 10 days. Bapu's mission was to fully devote himself to meditation, and supporters shown in this picture praise the man with flowers and offerings. So next time you are having trouble sitting still or concentrating, remember Bapu, and go bury yourself in a hole.
—Karen Miller
Least Developed Pay Cost of Free Trade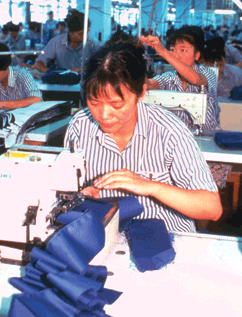 The advancement of free trade is being questioned and protested by many small developing countries this year as the expiration of worldwide apparel quotas ends this December. The apparel quotas set limits on the amount of clothing and textiles that can be imported from any one country. If the 30-year-old regime of quotas is lifted, the apparel industry is likely to be dominated by a small handful of the largest and most efficient countries, with China topping the list. Following the laws of free trade, this colossal change in the worldwide distribution of manufacturing would cause textile-importing giants like the U.S. and Europe to import exclusively from countries with the lowest wages, modern factories, and strong infrastructure. While this may be seen as a favorable outcome to free trade advocates, it cannot be ignored that millions of workers and companies from lesser-equipped countries will go out of business and that whole economies will be in jeopardy.

Countries that will suffer from the massive change include Cambodia, the Dominican Republic, Bangladesh, Jamaica, and Sri Lanka, with estimates at around 30 million workers in dozens of developing countries losing jobs. In 1974 the Multi-Fiber Arrangement (MFA) gave 47 nations each a share of the market for clothing and textiles. Originally, the quotas were meant to protect declining clothing and textile industries in developing countries, but in reality this guaranteed market access allowed countries with no existing apparel industry to start exporting these goods. With the impossibility of competing with major exporters like China, what remains to be determined in these lesser developed countries is where the laws of free trade will place these countries in the global marketplace.
—Karen Miller
For Sale: The World
Ever wanted to own an island? How about a continent? Even if you're not Alexander the Great, the Nakheel Corporation of Dubai has made this dream a reality. The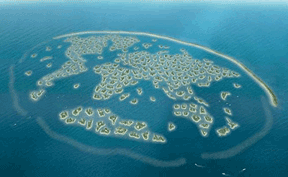 company is building a series of man-made islands shaped like the continents of the world about three miles off the coast of the United Arab Emirates. The continents will be divided into 300 smaller artificial islands and will be sold to developers starting at nearly $7 million apiece. The cost to build the World is a mere $1.8 billion and will be completed by the end of 2005. While it will take longer than six days to create, this world can at least boast that it has beach resorts on Antarctica.
—Nick Edwards
New Incentives for Boot Camp
If you think that money for college, specialized training, and a pension plan are the only benefits available to America's soldiers for their sweat and sacrifice in defending our nation, Uncle Sam has one more trick up his sleeve. Add plastic surgery to the list, because if a free nip and tuck or breast enlargement can't boost morale, then the Pentagon has apparently been spending the largest defense budget in the world frivolously.

Active service members, their immediate family, and military retirees are eligible for as many free face-lifts, nose jobs, liposuction, or breast implants as they would like at a time when body armor and ammo are in short supply. In the last three years, military doctors have performed over 400 breast enlargements and 1,600 liposuctions. But when compared to the 280,000 breast implants and 385,000 liposuctions Americans racked up in 2003, taxes for our military tummy-tuckers may not be the most worrisome place that Americans are spending their money.
—Karen Miller
Million Mao March
"If everyone were like Mao, the world would be a beautiful place," explains Chinese artist Wang Wenhai.

The 53-year-old, self-proclaimed "Yanan Clay Sculpture King", plans to craft the late communist ruler's likeness into 25,000 petite statues, or Mini Maos. If time allows (the 1,300 statues already completed have occupied the majority of the sculptor's 30-year career), the 25,000 Mini Maos will line the 6,000-mile trail blazed in 1934 by communists fleeing rural bases in Southern China. Once installed, the repetitious sculptures could prove a boon to China's growing cultural tourism industry. But at current rates of production, don't expect to visit the statues before the year 2580.
—Chris Hlavaty
Dancehall DJs Promote Homophobia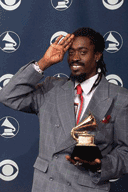 What ever happened to singing about love, smoking pot, and getting together to feel alright? Leading a new trend in reggae, DJs such as Beenie Man, Bad Vybz, and Elephant Man are instead filling thier songs with angry lyrics that promote discrimination against gays. This homophobic reggae is mostly found in dancehall reggae, in which the words are half-spoken and half-sung over a pumped up bass, with lyrics rife with derogatory references to gay people like "chi-chi men" or "batty boys" (slang for buttocks).

Gay rights organizations such as the British Outrage have been leading the campaign against these DJs, even calling for Scotland Yard to investigate Beenie Man for "inciting murder." They have succeeded in causing show cancellations from Miami to Berlin. Virgin Records, Beenie Man's label, has declined to make him available for an interview and issued press releases denying their involvement with such songs.

Speaking to the New York Times, a leading reggae music executive said the lyrics could also be strategic. He says it not only grabs the audiences' attention, but if other DJs don't respond, they can be labeled gay.

Homophobia is not unusual in Jamaica, where some gay residents still fear the possibility of discrimination and persecution under the 1864 buggery laws that are a part of the Offense Against the Person Act. The penalty is ten years of imprisonment with hard labor, and the majority of those prosecuted are adult men suspected of having anal sex. Although discriminated against in society at large, lesbians are not currently discriminated against by law.
—Rachel Hynes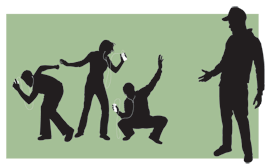 iWTF?
They are everywhere you go, on street corners, in the library, at the mall, and in the office, those illustrious white boxes known as the iPod. With the sale of almost 3 million over the past year and a half, the iPod is rapidly becoming one of the most prolific cultural icons of the 21st century. Just last winter, Jonathan Ive, original designer of the iMac and iPod, was named the most influential person in British culture over J.K. Rowling, author of the hit Harry Potter series. Despite the ludicrous advertising campaign, iPods have created a new cultural style around the world. More than a status symbol, a fad, or a fashion statement, iPods may be the cultural icon of the 21st century.
—Erin Schneider