Reports on the cultural scene in the heart of Europe.
Rivalry of two biennales brings wealth of contemporary art to Prague
Listen

16kb/s
~
32kb/s
The famous Venice Biennale - a major exhibition of contemporary art which takes place every second year - has been growing in popularity in recent years. The idea of presenting contemporary art of different nations became so popular that a number of cities worldwide started to establish similar events. Prague organized its first biennale two years ago. This year the event continues in the Czech capital but because of arguments between the original Prague Biennale organizers it has split up this year into two rival events.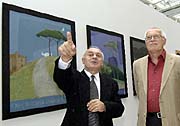 National Gallery curator Tomas Vlcek with the President Vaclav Klaus, photo: CTK
The original Prague Biennale two years ago was organized by the editors of the international art magazine "Flash Art" Giancarlo Politi and Helena Kontova in the National Gallery. Even at that time differences emerged between its organizers and the National Gallery Director Milan Knizak. This culminated this year in the event splitting into two: "Prague Biennale 2" - put together by the original organizers who also claim to be heirs to the original idea and the "International Biennale of Contemporary Art" organized by the National Gallery.
But let's leave the squabbles behind and rather focus on the substance of the two major art shows under way at the same time.
The main part of the "International Biennale of Contemporary Art" is on show in the imposing functionalist Veletrzni Palace - home to the National Gallery's modern art collections. According to the National Gallery curator Tomas Vlcek there are numerous video installations on show but also paintings play an important role in the Biennale.
"The paintings are now different from what it used to be. They are full of irony, jokes, distances, conflicts....They paraphrase clichés in politics, gender and many other topics of the contemporary life."
Marek Schovanek, who is originally Czech, currently lives in Berlin and at the International Biennale curates the German part named "Globalization and Its Discontents."
"I would describe in the way that my selections from Berlin are a Biennale within a Biennale. These selections encompass the various ....pieces that exist as a contemporary art at the moment. I took really a wide birth of selections; I have paintings, kinetics, performances, I have interactive media pieces, I have live paintings...."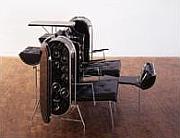 MK Kahne, photo: www.ngprague.cz
Right now we are standing in front of an art-piece that consists of two black armchairs. What is it?
"This is the work by MK Kahne. It's an artist born in Vilnius who works in Berlin. This is a bar. It comes in a form of a suitcase. A lot of his work is about mobility. He is presenting life style pieces that come in containers and cases. What we are standing in front of is a bar. It's a bar that comes in a form of a drum. The bar opens and you have a full audiovisual presentation with the bar. It's a piece that basically exemplifies and accentuates absolute decadent luxury."
Do you also know art works made by Czech artists here in the Biennale?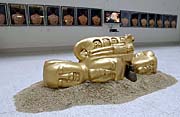 Photo: CTK
"I have Pavel Forman. I took him because he is also working in Berlin. It's a graffiti painting - 16 meters x 3 meters - and it's made on site. The only thing quite particular about it is that it will be destroyed when the Biennale ends."
A lot of contemporary visual art mixes sound and music. Brazilian artists DJ Saulo and Frantz Manat placed their art work in a painted room with reproduced music. They challenge the visitor to take active part in their project by dancing there.
"At the first time people tend to get a bit embarrassed. If you place a dance floor into the art space you cause very strange feelings and the people are asking: 'What are we doing here?' But as the time passes, people get interested and also drunk. Everybody starts to dance and that completes the work, because the work is actually a dance floor."
There are many other works at the Biennale which combine visual and audio components. Apart from that, the exhibition also has a series of additional events, including concerts. One of these concerts, called the Festival of New Improvisation, will take place on 25th June, says curator Pavel Klusak.
"It is a series of dialogues of international new improvisers dealing with quite unusual instruments. For Example Keith Rowe from Great Britain plays radio, Toshimaru Nakamura from Japan plays No-Input Mixing Board. I think the sound is unique! It's something like new classical music or meditative or new meditative electronic music for 21st century."
Prague Biennale 2 in Karlin, photo: www.praguebiennale.org
Whereas the International Biennale of Contemporary Art is housed in the elegant buildings of the National Gallery, its rival event, the Prague Biennale 2, takes place in an old factory in the former industrial district of Karlin. The building - without many changes - has been recently transformed into an art hall and it seems that contemporary artists have found a great and live space that suits their work.
"What I found very interesting there is for example the section of Latin American art which is very political and disrupting towards 'high society'. But in general I would say the Second Prague Biennale is based on classical painting in different interpretations. So you can see there for example the Polish or Chinese school of contemporary painting, but there is also the Czech or Slovak work on show."
In the Czech section you can see Saddam Hussein in an aquarium - a work by well known artist David Cerny which is a paraphrase of Damian Hirst's "Shark in an Aquarium".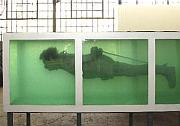 Saddam Hussein in an aquarium by David Cerny
Another piece that captured my attention was a figure of a little boy beating his head against a wall. Its author is Krystof Kintera.
"It's a human creature. It looks like a small boy but it's not necessarily a small boy. It can be a kind of a pixie or a small human being. He is representing a sort of a stress - which we all have in our bodies - as well as anger and that sort of an absurd feeling that nothing can be changed. So it can be also seen as an illustration of my private feelings - feelings of a guy standing and banging with his head against the wall."
Even though Prague is a city rich in galleries and exhibitions, sometimes it seems that the strong tradition of classical art is a disadvantage for contemporary artists who struggle to get established. This time - ironically due to an argument among art curators - the city is offering two impressive shows of the latest trends in contemporary art at the same time. In both cases the outcome is very different. Therefore throughout the summer lovers of contemporary art have a unique chance to see a wealth of contemporary art concentrated in the Czech capital.